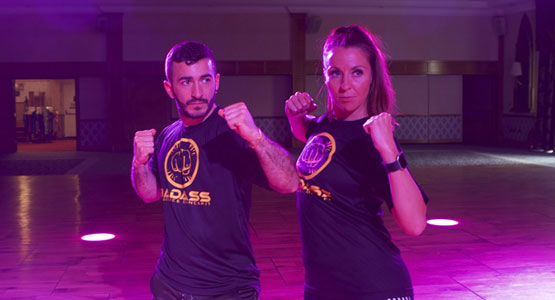 BADASS is a choreographed fitness class designed to get in shape while enjoying different styles of Street Dance and Combat. It is a class that focuses on all elements of fitness, conditioning, cardiovascular, flexibility, coordination, and balance.
It's a combat, cardio and conditioning class that will allow you to get in shape in style. Each of the sessions are easy to follow ideal for toning your muscles, burning calories, improving your balance and playing everything to the rhythm of the BADASS tunes. We are taking our love of dance fitness to a whole new level.
Build your ConfidenceBe Fierce Find Your Inner BADASS
The class is inspired by Bounce DanceFit, which looks at different aspects and styles of Street Dance. All of this is taken to a fun level by emphasizing the aerobic aspect for a workout that will tone your muscles like never before. All the choreographies are easy and fun to follow, making it ideal for all the people who like to dance and don't want to miss out on an amazing workout. It is suitable for all levels of fitness and type of dancer. Get your groove on with BADASS.
The class lasts from 45 minutes to 1 hour and offers a consistent energetic cardio that will keep you sweating in style.
Our classes combine elements of:
BADASS is growing rapidly in the UK, amongst gyms, private schools and dance schools and following a huge demand, Franco its founder decided to launch Bounce DanceFit as a group exercise class and then started offering instructors the opportunity in the UK to obtain a license to teach their program.
Why is BADASS popular?
Because it's fresh, trendy, catchy, engaging, challenging, current, fun, effective, and for everyone.